Mobile Food Ordering
Mobile food ordering is essential for any restaurant, coffee shop or hotel. With almost every restaurant in the USA only available to do take out or delivery due to COVID-19, many restaurants who didn't already have an online ordering system in place are hurting financially.  While at the time it may have felt like an unnecessary item to spend money on, it's become a necessity to stay afloat. It's time for you to invest in a mobile app to provide your customers with the option to order food for pickup or delivery and even launch a loyalty program to keep them coming back to your establishment.
Food Delivery Services
There are many "food ordering" platforms all touting to be the best. Food delivery services like Door Dash might seem like a quick cost-efficient idea, but it's anything but that. Firms like Door Dash and Grubhub take anywhere from 20 to 30% commission for each order you get. Add that up over time and you're paying way more than you need to.
Why every restaurant and coffee shop should get their own branded mobile app:
77% of Americans have a smartphone
50% of customers order more from restaurants that offer mobile ordering
Customers tend to order more from a mobile app because they do not feel rushed
Many restaurants double their take out order revenue annually
Send notifications anytime! Push notifications are read more than 80% of the time!
Create a loyalty program to keep your customers coming back
We offer all of the features you need and on all platforms
There are so many ways you can stand out from your competition with a mobile app. Here are some of the included features:
Mobile Ordering

Whether it's delivery or takeout, make it easy for your hungry customers to order food on the go.

Menu

Allow your customers to quickly see your food items and prices with pictures.

Customer Loyalty Rewards

Buy 5, get 1 free; you know what your customers love! Ditch the old stamp cards and offer rewards through your mobile app.

Push Notifications

Keep local customers in the loop with announcements of specials and events sent straight to their phone.

Social Media

Facebook, Twitter, LinkedIn, and/or Instagram integration to connect with your customers through their favorite social media sites.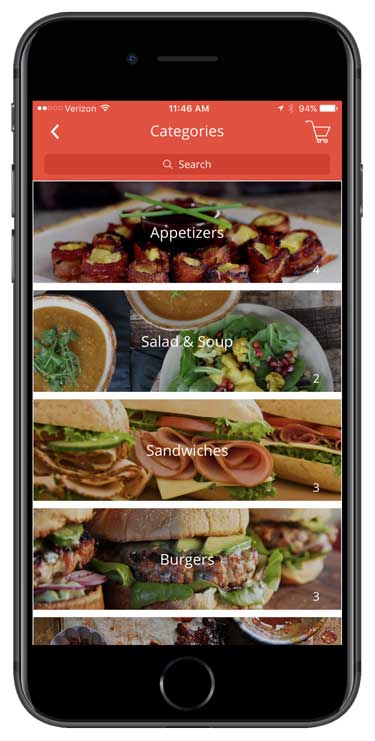 Analytics

See actionable app insights and track how many users have downloaded your app, dollars spent on items, food orders, ROI, and more.

Fan Wall

Allow your customers to leave their feedback and manage their comments online.

Event Listings

Promote fundraisers, live music, and special events right from the app and send notifications to groups within a specific area.

QR Coupon Codes

Allows customers to redeem coupons at your business by scanning a specified QR code.

Directions

GPS Directions that give your customers turn-by-turn directions to your business from anywhere in the world.

So what's this going to cost me?

We know it's hard to be a restaurant owner in times like these so we are doing our part by cutting our costs to make it more affordable for you to get started immediately. Since all businesses are unique, we don't have a once size fits all price so let's talk. After a few quick questions, we'll get you a quote right on the spot.

We also offer a do it yourself food ordering app option for owners who like to be hands-on and save money.